Berkeley Food Network provides our community fresh, healthy, no-cost food through 14 convenient pantries and distributions throughout Northern Alameda County.
We also offer home grocery delivery for eligible community members.
This page will help you find the BFN grocery distribution closest to you. Follow the links to the right to jump to a section on this page.
9th Street Pantry
Berkeley Food Network's largest food distribution is our 9th Street Pantry at 1925 Ninth Street on the corner of Ninth Street and University in Berkeley. Located indoors, we have recreated a marketplace for pantry members to shop and choose the items they want. We will always have seasonal produce and rotating shelf-stable pantry items. When available, we will have milk, bread, eggs, and protein.
9th Street Pantry Hours & Closures
The 9th Street Pantry is open weekly:
Tuesday 11am-3pm & 5pm-7pm
Thursday 11am-3pm & 5pm-7pm
Saturday 10am-12pm
Please note we are closed on the following days:
Saturday, August 26th, 2023
Tuesday August 29th, 2023
Thursday August 31st, 2023
Saturday September 2nd, 2023
Saturday November 11th, 2023
Thursday November 23rd, 2023
Saturday November 25th, 2023
Saturday December 23rd, 2023
Tuesday December 26th, 2023
Thursday December 28th, 2023
Saturday December 30th, 2023
Accessing the 9th Street Pantry
To get to the pantry by car, plenty of non-metered/free street parking is available on 9th Street. When you arrive at the pantry, please wait in line, and the Pantry Greeter will let you into the pantry. *Please do not park in the parking lot next to our warehouse*
To get to the pantry by public transportation:
From East/West: 51B at University & 9th Street
From North/South: 72, 72M & 72R at San Pablo Ave & University Ave, walk west on University.
Reminders
Please bring reusable grocery bags when you visit our pantries.
Please leave your dogs at home.
Getting Food at the 9th Street Pantry
Upon your first visit to the 9th Street Pantry or a Neighborhood Pantry, you will be asked to complete a short registration form. To see the forms before you come to the pantry, you can view it in English, Español, and 中国人.
After completing your registration form, you will receive a "Pantry Member Card." As shown to the right. This card will work at any BFN pantry. Please do your best to bring it with you when you visit a BFN Pantry. If you forget your card, we can look up your name in our software, and if you lose your card, we can make a new one for you.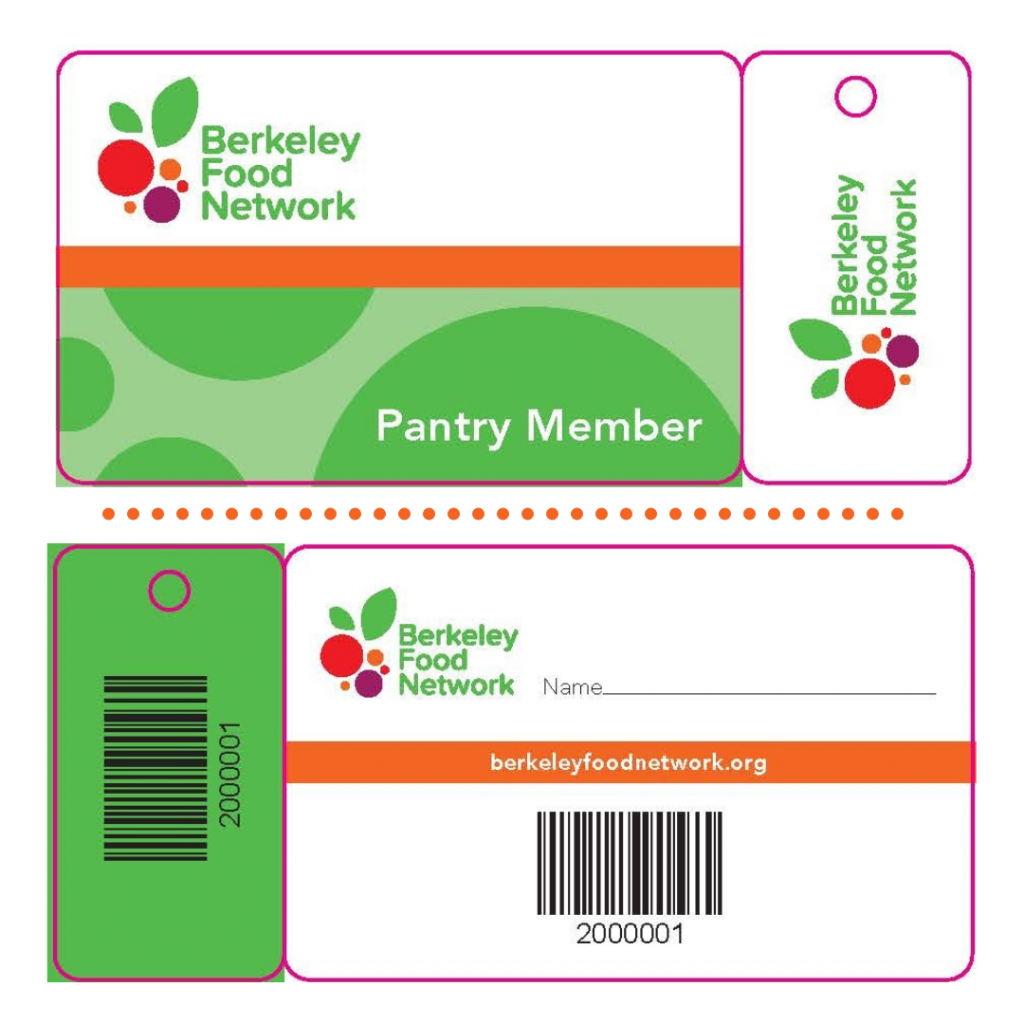 Neighborhood Pantries
Our Neighborhood Pantries are "pop-up" distributions in various communities in Berkeley and Albany. These pantries are open to the public and offer many of the same great food as our 9th Street Pantry.
Neighborhood Pantry Locations and Hours
Berkeley Technology Academy
Location: 2701 Martin Luther King Jr Way (at Derby)
Hours: 2nd and 4th Tuesdays of the month, 2:30 – 3:30 PM
Albany High School
Location: 603 Key Route Boulevard, in the Cafeteria
Hours: 1st and 3rd Fridays of the month, 1:30 – 2:30 PM
West Berkeley Family Wellness Center
Location: 1900 6th Street (at Hearst)
Hours: 2nd and 4th Wednesdays of the month, 1:30 – 2:30 PM
South Berkeley Senior Center
Location: 2939 Ellis St, Berkeley, CA 94703
Hours: 2nd Mondays of the month, 2-3 PM
Berkeley High School
Location: 2200 block of MLK (at Bancroft), at the gate between the athletic fields and Building G
Hours: 1st and 3rd Wednesdays of the month, 4:00 – 5:00 pm
Berkeley Adult School
Location: 1701 San Pablo Avenue (btw Virginia & Francisco), at the Main Entrance
Hours: Every 2nd Wednesday of the month, 11:30 AM – 12:30 PM
Reminders
Please bring reusable grocery bags when you visit our pantries.
Please leave your dogs at home.
Calendar of BFN Pantries
Home Delivery Program
The Home Delivery Program supports Berkeley, Albany, and Emeryville community members experiencing time, mobility, and transportation challenges–such as seniors, individuals with chronic physical or medical conditions, and families with young children–by delivering groceries directly to their homes. We prioritize individuals who cannot attend any of our regularly scheduled pantries. If you do not live in Northern Alameda County, we cannot enroll you in this program at this time.
Our biweekly grocery box deliveries contain seasonal produce, rotating shelf-stable pantry items, and, when available, bread, milk, eggs, and protein. We accommodate as many dietary restrictions as feasible.

Please note – our waitlist is currently full. We hope to open it again soon. Thank you for understanding. Please check the Alameda County Community Food Bank's website here for alternative resources to get groceries delivered to your home.
Apply for CalFresh
Berkeley Food Network believes access to food is a fundamental right. We do our best to get high-quality protein, produce, and pantry items whenever possible. However, BFN may not be able to consistently have all the food items you and your family want or need. BFN highly encourages all individuals who need food assistance to see if they are eligible for CalFresh, also known as food stamps or EBT. Click here to find out if you are eligible.